Catch the Wavelets
W
ith several billion sites on the world wide web, it's good to Google. Google is pretty much set up to deliver the People's Choice, a hopeful democratization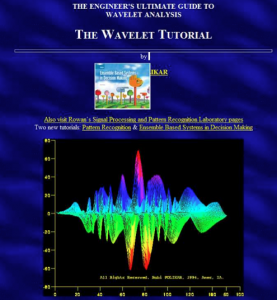 of knowledge to present what people vote for by clicking their way along. It seems to work pretty well for math and science, especially when you can focus your search down to specific topics.
Wavelets is one such topic. Wavelets have been cool for a while, but what good are they? They are a great tool when you want to analyze something brainy – like an EEG record – and get both the frequency and the time, in other words, you get more bang for your research buck than the plain ole Fourier transform.
This site is #1 devolving from the search terms "wavelet tutorial."
The maker of the site, Robi Polikar is an electrical engineering professor at Rowan University in New Jersey, USA. He is also a pedagogical genius.
If you are learning about wavelets for the first time, or if you need a good refresher, this is the site to visit first. After all, it's #1 on Google.
About the Blog: Cool Runnings
The 1993 cult-classic of the same name was a film about something unique yet not to be missed – the first-ever Jamaican Olympic bobsled team. In this site we aim to present you with yarns of a different sort – also unique and not to be missed – scientific and mathematical sites which will quicken pulses, expand horizons, and inspire. Each week we will present a different site, with a brief annotation from our editors. This is a labor of love, and we invite you to suggest your favorite sites as well. If your pick is chosen, we will include your choice (identified as contributed by you) as well as an autographed picture from a top scientist in consciousness science.
Consciousness science is highly interdisciplinary, and COOL RUNNINGS will reflect this, featuring sites from all over the pedagogical map. — Dr. Henri Montandon
Did you enjoy this article? We'd love to hear your thoughts in the comments below. Please be respectful both in inquiry and debate. Subscribe to our RSS feed + sign up for email updates to stay conscious!